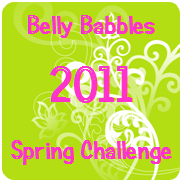 Welcome to the first week of the
Belly Babbles Spring Challenge
!
The Spring Challenge will go through 4 weeks:
Week 1 - Prepping and Planning
Week 2 - Upstairs
Week 3 - Downstairs
Week 4 - Other Areas
I know not everyone's house is the same, so you might need to adapt and go on your own for a while if you don't have an upstairs and downstairs. Don't waste the week though- I'm sure you can find things to keep you busy and still play along!
It's the first Monday of the Belly Babbles Spring Challenge, and I'm dedicating this week to Prepping and Planning. I know that
nothing
is more frustrating than getting started on a project and realizing halfway in that you don't have everything you need. And Spring Cleaning is the same way!
This week, here's what we're gonna do:
1) Take inventory of your cleaning and laundry supplies, and replenish as needed.
Here at the Belly Babbles home, 99% of our cleaning supplies are vinegar, baking soda, water, and other very basic items. I'm planning to work on a separate "cheat sheet" post listing out all the cleaning recipes if you wanted to use the same cleaning supplies we do. It's infinitely less expensive and for those of you with little ones or pets at home, it gives good peace of mind that you're not putting potentially harmful chemicals down where little hands or feet (or tongues!) rove. If you want to use commercial cleaners though, go right ahead- just make sure you're fully stocked and ready to go!
2) Come up with a weekly cleaning schedule that is comprehensive and most importantly, something that works for your schedule and that you can stick to!
I've discovered that a weekly cleaning schedule is the most important thing I can do to help keep housework on track, especially as Anna and I get more active and out of the house. If you have to miss a day, no biggie, but this way you know exactly what you need to do to catch up! My agenda includes a daily, weekly, and seasonal schedules - but you come up with what works for you.
3) Get your closets ready-
start storing away your winter clothes and pulling out your Spring and Summer wardrobes. Do laundry, send to the dry cleaners, and mend any loose buttons or hems as needed.
4) Start clearing out the clutter.
This is the
perfect
time to pull clothes that you never wear, items that you never use, knickknacks that do nothing but collect dust, and all the random stuff that tends to accumulate in storage areas. Get it boxed up and take it to Goodwill. And CPA Hubby reminds you to get a receipt for your 2011 tax deductions!! Be ruthless- you and your house will feel SO much better with a good decluttering. If you haven't used something in the last year, I can promise you're not going to miss it. Box it up!!
5) Get your pantry plan in order.
Clean out your recipe collection of heavy winter soups and meats, and gather a month or two's worth of Spring and Summer recipes. Take a few minutes to figure out what's in season (yay, farmer's markets!), and either pull from old family favorite meals or find some new ones online. Grocery shopping and meal planning is so much easier when you already know what you want to try- and we always manage to eat a lot healthier and for less money when we don't try to throw something together at the last minute.
6) Last but not least- Special Project
As you're working around the house, try to come up with a special area that could run more smoothly or use a little attention. Maybe you've realized you really need a dedicated cleaning supplies closet. Maybe the front coat closet is a shambles now that your winter coats are stored away, and some inexpensive storage baskets or wall brackets would make a big difference. Maybe your laundry room shelves could use some reorganizing. Or maybe your spice drawer is badly in need of some TLC. Or maybe that's my to-do list, haha. Seriously- I think even the best-run homes have these little problem areas- find something to add in this week and take care of it! And remember, I would love to showcase your Special Projects. Email pics when you get done and tell me all about it!
We have until next Monday, March 28th to get this stuff knocked out. It won't take long once we put our minds to it - Happy Spring Cleaning!