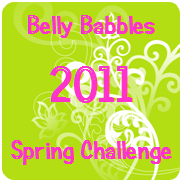 Spring has officially sprung, and I don't know about you, but my house desperately needs a good Spring cleaning after that winter! I've been getting everything prepped to do a deep cleaning, but then I thought maybe we could make it fun- any of the Belly Babbles readers up for a Spring Challenge?
The Belly Babbles Spring Challenge will get our houses open, aired, and scrubbed out well for us to relax and enjoy this beautiful weather!
Being realistic, I'd like to spread the Challenge over 4 weeks. One week to prep, one week to focus on the upstairs, one week to focus on the downstairs, and then the last week for miscellaneous areas. Every Monday there will be a weekly check-in post here on the blog.
I know there are overachievers scoffing at this plan, saying they can get their whole house done in two days, but whateva! This is my Challenge, I can do what I want! Plus, I know with babies, jobs, LIVES...I think spreading each set of projects over the course of a week will equal less stress and enable everyone to get it done in time.
The other component that I am really excited about are the Special Projects. The more and more I work around my home, the more areas I see that could really use some brain power and elbow grease. I would LOVE to come up with a Special Project for each week of the Challenge, and incorporate that into the week's plan. Any particular spots in your home that could use some organization, a little attention, or could run a little more smoothly? I know I've got plenty!! Big or small, every little bit makes a difference and I think it's fun to share what ideas we've come up with!
And as riveting as I know my housekeeping is to everyone, what I
really
want is to hear from all the readers (yes, YOU!). I would absolutely love to hear what your Special Projects are for the week, and when they are finished, to get pictures! Nothing would make me happier than to be able to dedicate a section of the Challenge post for the week to showcasing your projects and accomplishments. One thing I love about my readers is that we're all in different places right now- some are expert housekeepers, some just bought their first home, and several are due any day with their babies (I want to see some nursery projects, girls!!). I would love to see what everyone comes up with and what you want to work on!
Once you finish your Special Projects for the week, email Sarah - bellybabbles (at) gmail (dot) com and tell me all about it! Seriously, don't be shy!! Bonus points for before and after pictures :-)
Of course, if nobody wants to do the Challenge with me, I will happily plod along on my own. But I think it will be a lot more fun to all pitch in together- plus I want to see what kind of projects you guys can come up with!!
If any fellow bloggers would like to follow along with the Belly Babbles Spring Challenge, I came up with a nifty little badge that you can put in your blog (or any posts that you care to include). Grab the code and let's go!