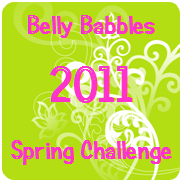 We're done with the second week of the Spring Challenge, and I have to admit it was kind of difficult! My upstairs desperately needed a good deep cleaning, but with the baby only napping for 45 minutes at a time, it was hard to squeeze it all in. I was determined though to be able to come on here and honestly say I got it all done, so today I handed Anna off to Steve for some Daddy-Daughter time, and did a marathon clean to catch up for the week.
Baby boo-boo = Baby Band-Aid, made by Daddy
So this week I cleaned the upstairs, which includes the master bedroom and bathroom, laundry room, guest room, nursery, and the Jack and Jill bathroom. And a little hallway. The nursery and guest room are usually kept really clean, but the master bedroom was a total pigsty, I have to admit. Since nobody ever sees it except us, I confess that it's the lowest priority, especially when we have people over. It got a major deep clean, along with the bathroom. I was able to clean the hallway and the other rooms today, and it feels so much better up there now!
We also accomplished two Special Projects this week. Neither are related to cleaning, but both will bring some enjoyment to our home and maybe save a little bit of money off our grocery bill every week.
The first was a gardening project. I have been itching to plant a garden, but we have a couple of challenges in a mostly-shaded yard, and deer that are unbelievably determined to eat everything that looks pretty, useful, or expensive despite a fence and an obnoxious dog. So we decided to scope it out for one more year and to invest in a full garden next year if we think we can do it. But in the meantime, we are spending easily $20 a week at the store on tomatoes and herbs, and so we are going to try our hand at growing our own. We planted everything on our porch to maximize the sun and minimize the deer (if I ever catch a deer on our porch, I'm pulling out the shotgun).
The second project was unplanned but seems to be really paying off. We were going through napkins and paper towels at a crazy rate, and keeping decent ones stocked in the house was really adding up. I had already purchased a little trash can to use as a hamper downstairs in the kitchen for Anna's bibs, and it got me thinking that it would be pretty easy to switch to cloth napkins while we're at it. I got the little hamper set up, and dug through all of my "entertaining" drawers to see what kind of napkins I had. Umm...apparently I'm a napkin hoarder, because we had more than enough to stock a basket's worth, and I didn't even have to touch the formal white napkins. I already do so much laundry during the week that it's been no big deal at all to wash these too, and it's been insane how much our napkin and paper towel use has cut down.
So that wraps up Week 2 of the Spring Challenge, and we're on to Week 3! I hope the three people following along had productive weeks too :-)