This party is a fun tradition in the Forbes family. The Magic Kingdom's Halloween party is a special event, so there are plenty of costumed characters, generally less crowds, more parades, and even Trick or Treat stations set up for the kids. It's a festive night and most people are in costume, even the adults.
Well, Steve drove the costume idea this year. He was adamant that Anna get to be Mary Poppins - the pretty, Jolly Holiday Mary Poppins. I wish I could describe to you how much Anna is in love with her costume - she kept tabs on it the entire time I was piecing it together for her and she always had the most delighted smile on her face anytime there was something new for me to show her. I never let her put the finished costume on until we got down to Disney and guys, this was one excited little girl!
I plan to take better pictures of all the details for Halloween but you can get the general idea. She adores her lace parasol and her gloves, and spent a good portion of the night twirling in her pretty dress.
Steve and I lucked out finding an Etsy seller who was able to make our costumes for us. I was surprised at how many people talked to me about my costume. Apparently there are plenty of Mrs. Banks fans out there! I had three people ask to take pictures with them, a new personal record.
Maddie hated her fox costume, it was way too hot for it so she ended up in her PJs, asleep in the stroller.
I get mostly blank stares when I tell people what our costumes were, so here are the screen shots from the actual movie. I was dressed up as Mrs. Banks, in the Sister Suffragette scene.
Steve was Bert from the Jolly Holiday scene and Anna was obviously Mary Poppins.
Maddie was the fox from the carousel horse/fox hunt scene.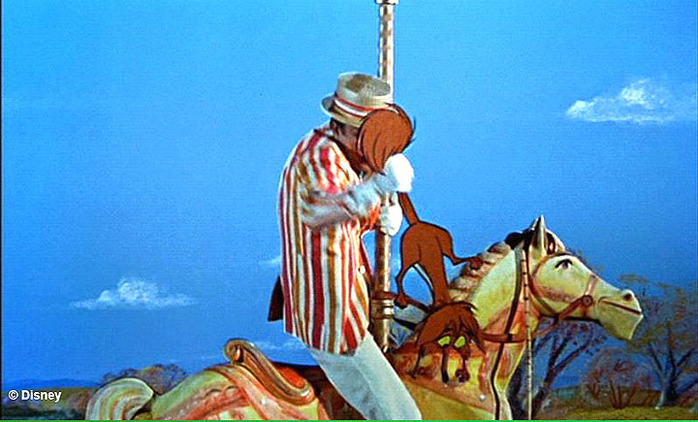 Watching the parade.
This is right after Anna gave me a hug and told me thank you for her pretty costume - sweet girl!
No idea who that random kid is, he came over and sat down to be in the picture. Thanks kid.
We found another Bert at the party, isn't that funny?
Dance party with the Monsters, Inc. monsters.
Shooting the aliens on Buzz Lightyear
That's some fierce concentration, right there.
Hands up! On the People Movers, which is a slow train that rides through Tomorrowland.
Waiting her turn to Trick or Treat
Steve taught Anna to do Hands Up! on the caterpillar roller coaster at the fair, and so on all the rides he would shout "Hands up!". Including on teacups!
One last Dance Party to finish off the night - whew, what fun! Anna is primed and ready to go for Halloween, she has asked me every single day since we've gotten back if she can wear her costume and go "trick-treat"!